New York, New York
Do you ever feel like the universe is pulling you to a specific place?
On one level it's absolutely absurd. There are almost 8 billion people on this planet, so even the thought of something cosmic and unknown shaping our lives is ridiculous. And yet sometimes things just happen. The stars align.
I have never been to New York City. Yet. But I'm being pulled towards the city like I'm on the polar opposite of a magnet. It all started with a writer's conference. I needed a way to level up. When I look at what I've done in terms of querying agents and taking my writing to the next level I think: "This isn't working."
Have you ever heard of the definition of insanity?
I haven't queried now in almost a year. Ever since I made the decision to go to Amazon with Far from Ordinary. But I'm STILL getting rejection letters from agents in my inbox from time to time.
They's busy, that's for sure. Maybe they're reading my queries, maybe they're not but either way, I'm not getting traction from them.
I've got a book – a new book –  and it's finished. Mostly, anyway – I still think that the lead-up to the ending needs work. And thanks to some pretty awesome people in my life I'm able to carve out the time to get it done.
It's funny, looking back at words that I wrote years ago. They bore all the trademarks of a writer who had just started out – the story is inconsistent, the chapters rushed. Before I started revising it it was basically held together by a loose plot and emotion. I hope that I can look back on what I've written today in a few years and think the same thing, cause self-improvement is important.
But I digress. So why can I do to stop the spinning of my tires in the mud? Maybe I'm in a better position to query now – after all I've published a book, and an article as well.
But agents get SO many queries every single day from writers. I'm asking myself "What can I do to be different?" Cause that's important. That's what's going to get me noticed.
I seriously started looking at writer's conferences back at the beginning of June. I figure that it's a perfect way for me to showcase my book.
If you can get me in a room with a bunch of people who are looking to pick up new clients and let me talk about Fade to Black, I have to think that my chances of at least getting noticed are going to go up significantly.
I'm a pretty good public speaker – it's what I do pretty much every day. I've got to think that's going to be a huge advantage for me going into this thing.
So the one which stood out to me the most was the writer's conference in New York. Right in the heart of Manhattan. And it's official – I'm going! I opted for the conference package and the pitch slam add on. I didn't opt to go to any of the pre-conference seminars.
The plan is to go out a few days early and do some sightseeing. You know, be tourists in the best city on earth (well, second best, besides Winnipeg). I want to ride the subway, see the Empire State building, walk at Ground Zero.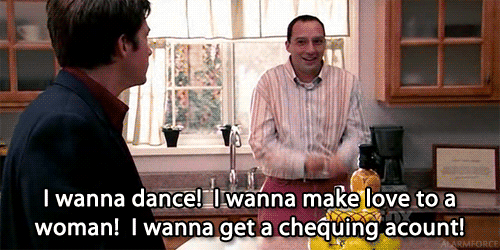 It's funny how these things happen. I got a text from a friend of mine a few weeks after I booked the trip, asking if I wanted to come to New York to watch the Jets play in October.
Never before has anyone asked me to go to New York. I tell ya, guys, the universe is pulling me towards the Big Apple.
Other Things
Sorry for the delay in posts – it's been a crazy couple or three weeks. First of all, one of my best friends got married. I was so honoured to stand up beside him, even if it was an outdoor wedding, and it was thirty degrees out and I was wearing a wool suit.
I also watched my youngest brother graduate from Firefighter school.
Lots of proud moments there. But some crappy ones too. My car got broken in to. They took all the change in my console and tossed everything around. But you know what gets me the worst? They left the copy of Far from Ordinary that I had in my backseat behind! Hashtag assholes! The LEAST they could have done would have been to steal my book, read it and give it five stars on Amazon. The very least!
Some people, I tell ya.
There's been a lot of memorable moments over the past few weeks, so thank you for your patience. I'll be better next time.
What did we learn over the past few weeks?
I love the heat, but I love it even more when I have a cold beer in my hands and my toes in the lake.
I like coffee. If coffee means Irish Cream with a splash of coffee for colour.
New York isn't a place, it's a state of mind. Totally kidding – it is a place, and I'm going! Think that friend's episode when Joey is in London. "London, BayBee!" Except switch out London for New York.
Thieves have bad taste in literature
When you break the pattern and push yourself out of your comfort zone great things tend to happen. I'm coming for ya, NYC!
Lots more on that with the weeks to come. Until then…
Later days,
M